The ultimate guidance about how to update Matrix Theme
This post covers the following subjects:
How to update Matrix theme installed in 2022 or later
How to update Matrix theme installed before 2022
General updates for Matrix themes
How to request a new installation
How to contact Support
FAQs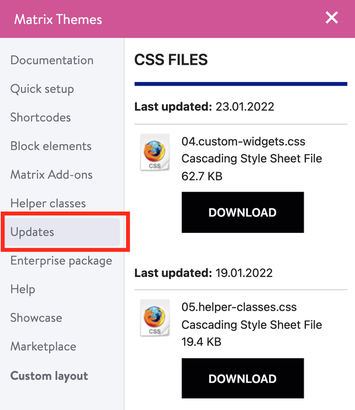 To update a specific section of your website:
Navigate to the Matrix Themes menu and select the "Updates" section.
Download the latest file for the section you want to update.
Go to Design > Custom Template > Files in your website's dashboard.
Upload the latest file for the section you want to update.
The newly uploaded file will replace the previous version.
Check the section to ensure that the update was successful.
Note: Always backup your website files and database before updating any sections. Also, consult the theme's official documentation for specific instructions regarding the section you want to update:
For all templates installed prior to 2022, the only option to update it is to request a new installation and update the entire template. Before requesting the new installation, please consider the following important points:
The new installation will overwrite all previously installed files, but your content will remain unchanged. All pages, images, text, and custom widgets will be the same and you will not lose any of your content.
Some of your widgets may stop working correctly (e.g. sliders, parallax, etc.) due to updates or replacements of plugins and custom elements with the latest versions.
All custom code placed in the "Edit Head" sections and custom JavaScript files not included in the default Matrix themes will be removed after the new installation. We recommend saving all those files on your computer before requesting a new installation.
Some templates may have undergone significant design changes in recent years. You can view the current template designs at the following page: https://www.matrix-themes.com/templates/
If you are using a template that no longer exists, you can request the installation of any other template available at https://www.matrix-themes.com/templates/
Please note that it will not be possible to revert back to the previous version after the new installation.
At Matrix Themes, we aim to keep our customers informed and up-to-date with the latest developments.
To achieve this, we regularly publish blog posts covering important updates, bug fixes, plugin changes, and additional support answers to commonly asked questions. These posts are usually published once a month or whenever there is a significant change in our themes.
You can find these updates at the following links:
https://www.matrix-themes.com/blog/updates/
https://www.matrix-themes.com/blog/
We encourage you to visit these pages regularly to stay informed and ensure that your website is running smoothly with the latest updates and fixes.
At Matrix Themes, we are dedicated to providing our customers with seamless and efficient support.
To request a new installation of your template, please use the contact form on our support page:
https://www.matrix-themes.com/support/
When submitting your request, please provide your login details and specify the exact name and version of the template you wish to install. This will ensure that we can accurately process your request and complete the installation in a timely manner.
The support team strives to complete all new installation requests within 48 hours. Once the installation is complete, you will receive a confirmation email indicating that the process has been completed successfully.
If you need assistance with your Matrix themes, our support team is here to help.
To contact support, please use the contact form on our support page:
https://www.matrix-themes.com/support/
In your message, please provide a clear and detailed description of your issue. If necessary, our support team may request additional information such as screenshots or access to your website to better understand and resolve the issue.
Common Mistakes When Updating the Matrix Theme
This section highlights some of the common mistakes that may arise while updating the Matrix Theme and provides solutions to address them.
I can't access to the section "Updates"
One of the issues that users may encounter is being unable to access the "Updates" section of the Matrix Themes admin menu. This is because the section requires a password that was sent via email after the initial installation. If you can't find the password access,  you can request a password reset, using the same email address that was used for the initial installation.
If you can't access to any section of admin menu, probably you 're using Firefox browser and it may be due to an important update that was released at the beginning of 2021. Please check the following support page with this issue:
After uploading the latest js file matrix-min.js my website stopped working
Another common issue that users may face when updating an older template that was installed before 2022 and does not use the advanced style editor is the need for a new installation. This is because manually updating the template via CSS and HTML can be a daunting task, especially for those who lack solid knowledge of coding.
To explain this further, let's consider an example where a user is currently using a template installed in 2020 with the version matrix-1.9.1.js. If the current version of the JS file is 2.0.0, attempting to switch from version 1.9.1 to version 2.0.0 may fail because over the years, many plugins and features have been updated, and some of them may no longer be compatible with the latest browser versions.
It is also worth noting that the latest Matrix Themes use separate CSS components that are included at the top of the HTML file. This approach differs from using only one main CSS file. By using separate CSS components, it allows for more flexibility and better organization of the code. Additionally, it makes it easier to update specific styles without affecting other parts of the template.
If you have any further questions before updating your website, please ask here: