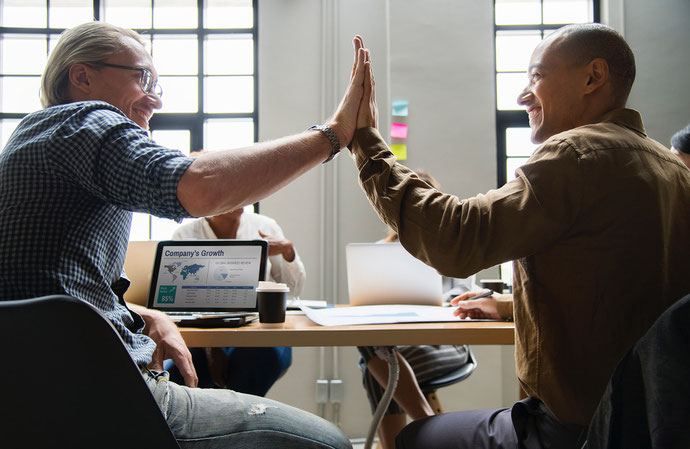 The updated post about the common issues you might have with Matrix themes.
* Last Updated: December 2020
You see this page probably because you sent a wrong email asking for a theme support.
For any help, theme support or just information regarding Matrix themes, I kindly ask you to use the correct form from the following pages:
How to transfer Matrix Theme
If you asked the installation of Matrix theme on your test Jimdo website, here's a quick guide about how to transfer it to your main website:
Make the backup first
1) Copy the HTML code using a simple text editor (designs> custom template> html)
2) Copy the CSS code using a simple text editor (designs> custom template> html)
3) Copy the links you will find in Edit HEAD section (settings> edit HEAD)
4) Save all files on your computer. Go to designs > custom template> files. Clicking the file name, it will be opened in a new tab of your browser. With the right  mouse click, select "save file as.."
Transfer to your official website
1) Upload all files ( designs>custom template>files )
2) Paste the HTML ( designs>custom template>html )
3) Paste the CSS styles ( designs>custom template>css )
4) Click the save button to save all changes
5) Add the links to Edit HEAD area ( settings>Edit HEAD )
6) Disable the Jimdo mobile version ( settings>mobile view )
Hide Shopping Cart if Empty
If you're not using online store and want to hide  the shopping cart, simply add the class 'no-icon'  to 'sc-wrapper' directly in HTML ( design>custom template>HTML)

<div class="sc-wrapper 

no-icon

">
    <var>shoppingcart</var>
</div>                     



Edit info box
Some of Matrix Themes include the info box above the header. You can edit this section directly in HTML Design> Custom template> HTML :

<div class="fa fa-mobile">
</div>
   

(+46) 432‑582-02,


<div class="fa fa-envelope">
</div>
   <a href="mailto:

office@mail.se

">

office@mail.se

</a>




Edit Hero Image
Hero Image can be edited in Design> Background.
You can select different image for each page of your website.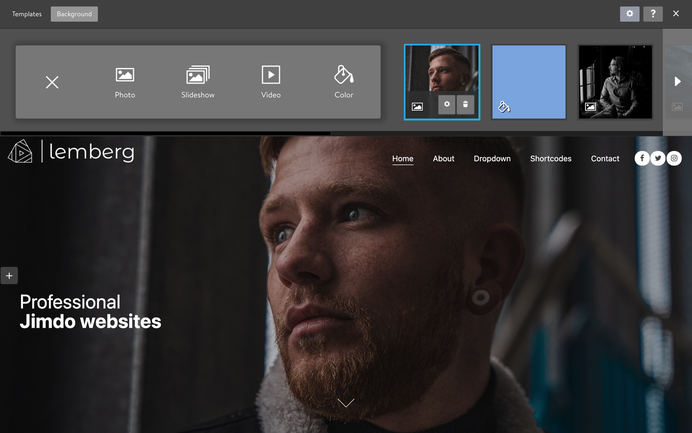 Advanced settings
To disable the hero section for specific page, you need to add
the body class 'no-hero' in Edit Head: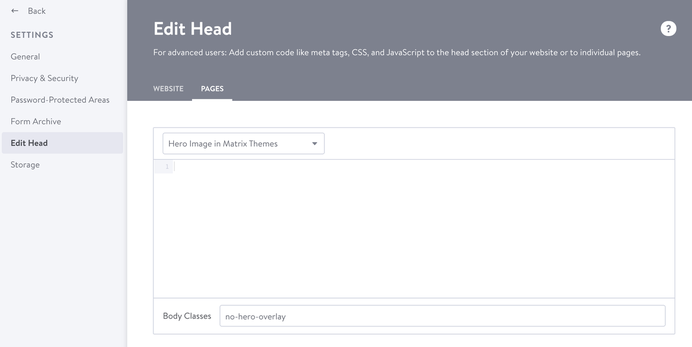 All body classes for Hero Image:
no-hero - deactivate JAB for specific page
main-page -  display the same image size as in homepage
no-global-hero -  deactivate JAB in all pages except the homepage
has-global-hero -  activate JAB for specific page ( in some themes it's deactivated by default)
no-hero-overlay -  remove the overlay filter
Deactivating the hero section from the whole website
In this case  the body class 'no-hero' should be placed directly in HTML like shown below:

  <div class="global-colors brand-bg brand-link has-custom-text large-inner 

no-hero

">
        ...   



Overlay filter
The hero image has the overlay filter in order to make the caption or website navigation well visible.
A simple way to remove the filter is to use the body class 'no-hero-overlay'. However, you can  also change the opacity class elements  in HTML:
opacity-2
opacity-4
opacity-6
opacity-8
Your website is blocked?
Recently Jimdo started blocking the new websites of free account( This is due to a technical error). If it happened to your own website, - just send an email to official Jimdo support asking to unblock it. Usually, you will get the answer in 24h. That's why I recommend as the first thing is to save the original source files ( HTML, CSS, files and links in Edit Head area. )
Contact Jimdo support
If you're owner of Pro /Business package and one of your new Jimdo free website is not available, you can contact Jimdo support from Admin menu> Questions
Edit Hero Title
If the template includes hero image, you have a possibility to add a hero title to each page of your website.
There are 3 different styles in section Shortcodes and once copied your style, you paste it inside the Widget/HTML  of content section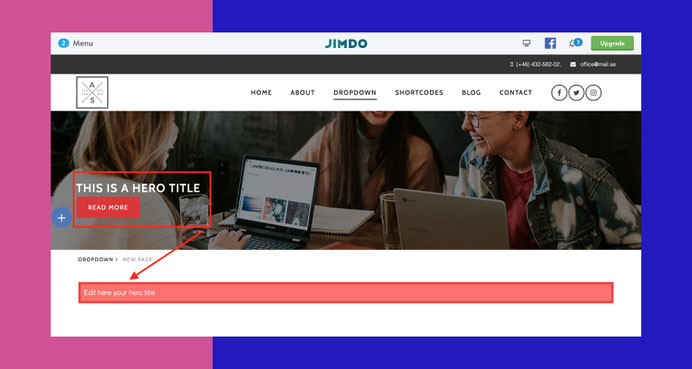 If you edit your hero title in red box and make some error in the code, the red box might disappear. If you can't see it anymore, you still will be able to find it on mouseover like shown below: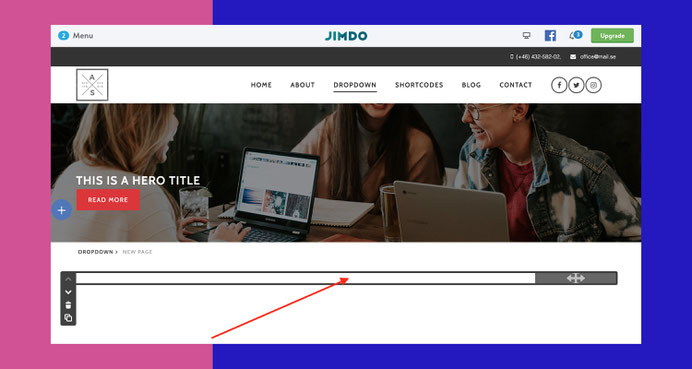 How to fix it:
once found  the code of the hero title, you can delete it and add  the new one from the shortcodes section.
The other way is to select the highlighted code block and replace and the end of the whole hero title code: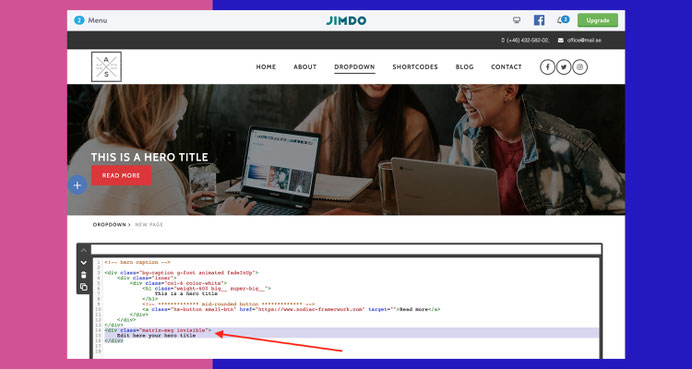 So, your code should finish with following block:
<div class="matrix-msg invisible">
     Edit here your hero image 
</div>
Edit color link in footer
To set up the color of global links in content and footer section, just go to Design> Font Settings and change the color of Link/Navigation.
In this section you can also change the Headings size/color and style of horizontal line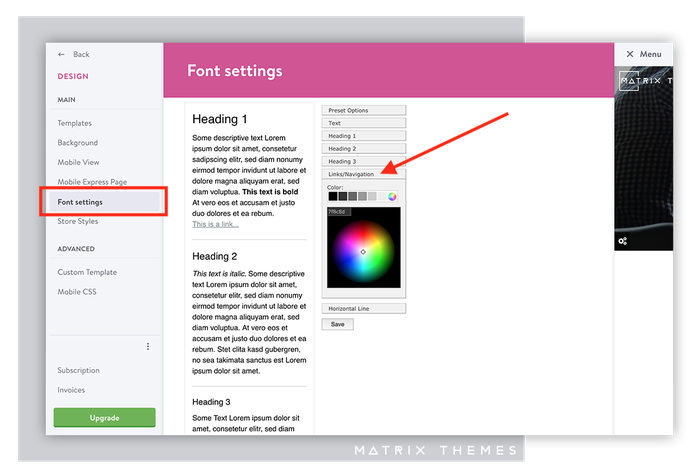 This kind of error appears in old templates installed in 2016 when  you don't have the access to documentation and custom widgets shortcodes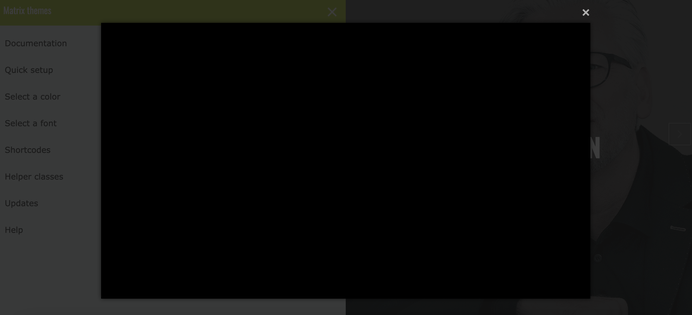 Go to Design> Custom Template> HTML and find the section of Matrix Themes menu:

<!-- ************* Vimeo Popup ************* -->
<div class="invisibleh">
<a class="popup-vimeo" href="http://www.matrix-themes.com/support/documentation/" title="">Documentation</a><br/>
<br/>
<a class="popup-vimeo" href="http://www.matrix-themes.com/support/quick-setup/" title="">Quick setup</a><br/>
<br/>
<a class="popup-vimeo" href="http://brand-colors.com/" title="">Select a color</a><br/>
<br/>
<a class="popup-vimeo" href="http://fontcdn.org/" title="">Select a font</a><br/>
<br/>
<a class="popup-vimeo" href="http://www.matrix-themes.com/support/shortcodes/" title="">Shortcodes</a><br/>
<br/>
<a class="popup-vimeo" href="http://www.matrix-themes.com/support/helper-classes/" title="">Helper classes</a><br/>
<br/>
<a class="popup-vimeo" href="http://www.matrix-themes.com/support/updates" title="">Updates</a><br/>
<br/>
<a class="popup-vimeo" href="http://www.matrix-themes.com/support/help/" title="">Help</a><br/>
<br/>
</div>
<!-- ************* End Vimeo Popup ************* -->



All you have to do is to change the URL  from
http://www.matrix-themes.com/support/documentation/  to
https://www.matrix-themes.com/support/documentation/ and so on

<!-- ************* Vimeo Popup ************* -->
<div class="invisibleh">
<a class="popup-vimeo" href="https://www.matrix-themes.com/support/documentation/" title="">Documentation</a><br/>
<br/>
<a class="popup-vimeo" href="https://www.matrix-themes.com/support/quick-setup/" title="">Quick setup</a><br/>
<br/>
<a class="popup-vimeo" href="https://brand-colors.com/" title="">Select a color</a><br/>
<br/>
<a class="popup-vimeo" href="https://fontcdn.org/" title="">Select a font</a><br/>
<br/>
<a class="popup-vimeo" href="https://www.matrix-themes.com/support/shortcodes/" title="">Shortcodes</a><br/>
<br/>
<a class="popup-vimeo" href="https://www.matrix-themes.com/support/helper-classes/" title="">Helper classes</a><br/>
<br/>
<a class="popup-vimeo" href="https://www.matrix-themes.com/support/updates" title="">Updates</a><br/>
<br/>
<a class="popup-vimeo" href="https://www.matrix-themes.com/support/help/" title="">Help</a><br/>
<br/>
</div>
<!-- ************* End Vimeo Popup ************* -->



Note:
This change has been made in 2016 which means that even if you solve the problem with the menu access, you won't be able to use the latest Matrix Themes features so I strongly recommend you to update the whole template